Le Trois-mâts
Bob Verschueren (BE)
Thiou / Palais de l'Île
10
Le Trois-mâts
Bob Verschueren (BE)
[Due to damage, this work has been removed and cannot be reinstalled]
A boat is moored on the clear waters of the Thiou, in front of what used to be the prison, now called the Palais de l'Île. Three young ginkgo biloba are placed on the deck, an unexpected and poetic image. While Bob Verschueren leaves the walker free of interpretation, his work invites us to dream of other horizons.
The three trees, solidly attached to the bottom of this boat carefully renovated, stand up like the masts of a galleon. Certainly, this boat is derisory in comparison with the splendid three masts that crisscrossed the oceans, but that's all it takes to let us drift into thoughts of escape in face of this building which was doomed to imprisonment.
---
Bob Verschueren, born in 1945 is an internationally recognised contemporary Belgian artist. Today, more than 350 of his in-situ installations can be seen throughout Europe and beyond.
10
Place
Thiou / Palais de l'Île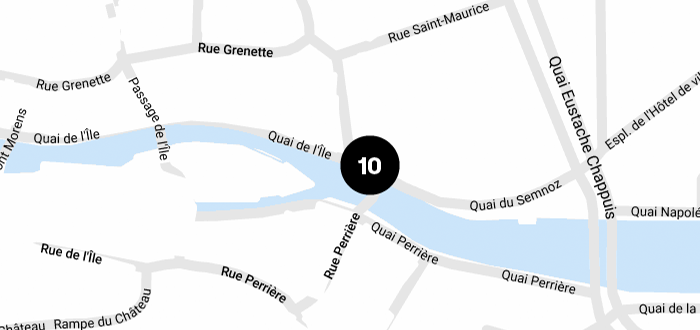 Open the map
Remerciements à l'association Les Vieux Safrans d'Annecy  pour avoir contribué et apporté leur savoir-faire pour la rénovation de la barque
•
Remerciements au service Paysage et Biodiversité de la ville d'Annecy
---
Du même artiste « Implantations », « Question de sommets », « La haie d'honneur »